for Hospitalization, Critical Areas, Operation Theaters etc.
Established in 1995. From Barcelona to the world (In more than 80 countries)
We manufacture medical equipment for patient wards, critical areas, and operation room
Tedisel Medical is internationally known for its large variety and adaptability of its products. Especially for manufacturing Bed Head Units, ICU bridges, Pendants, Panels and Software for the Operation Theatre.
DESIGN, EFFICIENCY AND ADAPTABILITY
Technological leaders in the hospital sector
Our products are at the service of thousands of public and private hospitals in the world.

We provide advice and guidance through ergonomic and efficient designs for each specific area. We make sure to always focus on the comfort of the patient, the medical team and the technical service.          
Our success story for a safe, efficient and high quality product, is based on continuous investment in talents, R&D, machines and technology.
"Tedisel Medical was born in 1995 as a family business specialized in electrical safety equipment. Today we have become an internationally recognized company with a wide range of hospital equipment."
– Josep Marquez, CEO of Tedisel Medical
COMMITTED TO EXCELLENCE SINCE 1995
A long journey to success
Opening new countries and investments in machinery
Madagascar, Congo, Trinidad and Tobago are some of the new countries added to our list of references. In addition, our factory has continued to grow with the incorporation of new technologies.
 In this year, we have located our resources, factory and personnel to equip new critical areas in record time.
Our latest DIAMOND glass panel model is designed to centralize all necessary imaging in an operating room.
AURA is our modular bed head unit. It can be customized to suit the needs of different areas: Hospitalization, Intensive care, Operating rooms.
ARES represents the compact alternative of the ceiling supply system designed to optimize space in critical areas.
Greater expansion and growth in Latin America
Position ourselves as a strong reference in the market and creating new partnerships and agreements.
A product designed to optimize space in operating rooms and critical areas.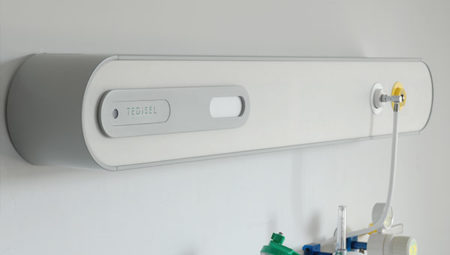 Launch of ICARUS and first participation in the Arab Health fair
A jump to the future is what ICARUS represents, our attractive and futuristic headboard.
It is a suspended ceiling system designed to cover all needs and optimize space in critical areas.
Opening of the market in the Middle East
First projects carried out have been in the United Arab Emirates and the Kingdom of Saudi Arabia.
Strategic association and OEM with other manufacturers
Developing solutions and products for the leaders of that moment such as Draeger, Steris, Olympus.
Internationalization with the opening of the market in Africa and Asia
First projects carried out have been in Morocco, Indonesia and Sri Lanka.
Opening of the market in Latin America
First projects carried out have been in Chile, Peru and Costa Rica.
Launch of the first range of bed head
A centralized operating room control system known for its Corian® surface and its flexibility in terms of size and integration of components.
Opening of the market in Europe
First projects carried out have been in Portugal, Italy and Poland.
Foundation of Tedisel Medical
In the city of Badalona, a few km from Barcelona, the Marquez family starts up a small company specialized in electrical safety equipment.
We work every day on continuous improvement to facilitate the task of taking care of patients around the world.
At the same time, we accompany our clients at every moment to offer them the best advice adapted to the needs of each market.
To be an international reference in the industry and one of the top technological leaders. This can happen by providing new high-quality solutions to hospitals, investing in R&D, and acquiring the latest technology.
Quality and Safety
Guarantee the highest quality and safety for the medical staff and patients.
Development and Innovation
Investing in our human and technological resources is one of our best premises.
Environmental commitment
Fighting against climate change begins in our factory.
Customer orientation
Prioritize the needs of our clients and their markets.
Leadership
Give growth opportunities to our team, suppliers, and distributors.
Teamwork
Joining our hands, talents and hearts make a difference.
AMERICA

Bolivia
Chile
Colombia
Costa Rica
Cuba
Dominican Republic
Ecuador
Nicaragua
Panamá
Perú
Trinidad and Tobago
AFRICA

Algeria
Angola
Cameroon
Central African Republic
Democratic Republic of Congo
Egypt
Equatorial Guinea
Gabon
Ghana
Libya
Madagascar
Mauritania
Morocco
Nigeria
Sudan
Tunisia
EUROPE

Andorra
Belgium
Bulgaria
Cyprus
Croatia
Czech Republic
Denmark
Estonia
Finland
France
Germany
Greece
Ireland
Italy

Latvia
Lithuania
Macedonia
Malta
Norway
Netherlans
Poland
Portugal
Spain
United Kingdom
Romania
Russia
Switzerland
Ukraine

MIDDLE EAST

Bahrain
Iraq
Israel
Jordan
KSA
Kuwait
Lebanon
Oman
Palestine
Qatar
UAE
ASIA

Bangladesh
Brunei
China
Philippines
Hong Kong
India
Indonesia
Pakistan
Sri Lanka
Vietnam