The use of medical gases in hospital centres is a response to a solid implantation and a constant increase in consumption and type of therapies.
What are medical gases? Definition and characteristics
At present, the use of medical gases is on the rise, both in the hospital, pharmaceutical and health fields in general and in the home. To speak of medical gases is to speak of special medicines. This is how they are classified.
By medicinal gas we mean any product consisting of one or more gaseous components and whose purpose is direct contact with the human organism.
The use of gases is indispensable in a hospital for medical care in a multitude of units. For this reason, their use, supply and administration must be effective, efficient and safe.
It is important to divide what are medical gases, such as oxygen and nitrous oxide, supplied to patients in gaseous form, and gases used as medical devices, for medical care units, as facilitators or adjuncts. The difference is that only medicinal gases considered as drugs exert their action by pharmacological, immunological or metabolic means.
« It is

important to divide

what are

medical gases

, such as oxygen and nitrous oxide, supplied to patients in gaseous form, and

gases used as medical devices

, for medical care units, as facilitators or adjuncts. The difference is that only medicinal gases considered as drugs exert their action by pharmacological, immunological or metabolic means.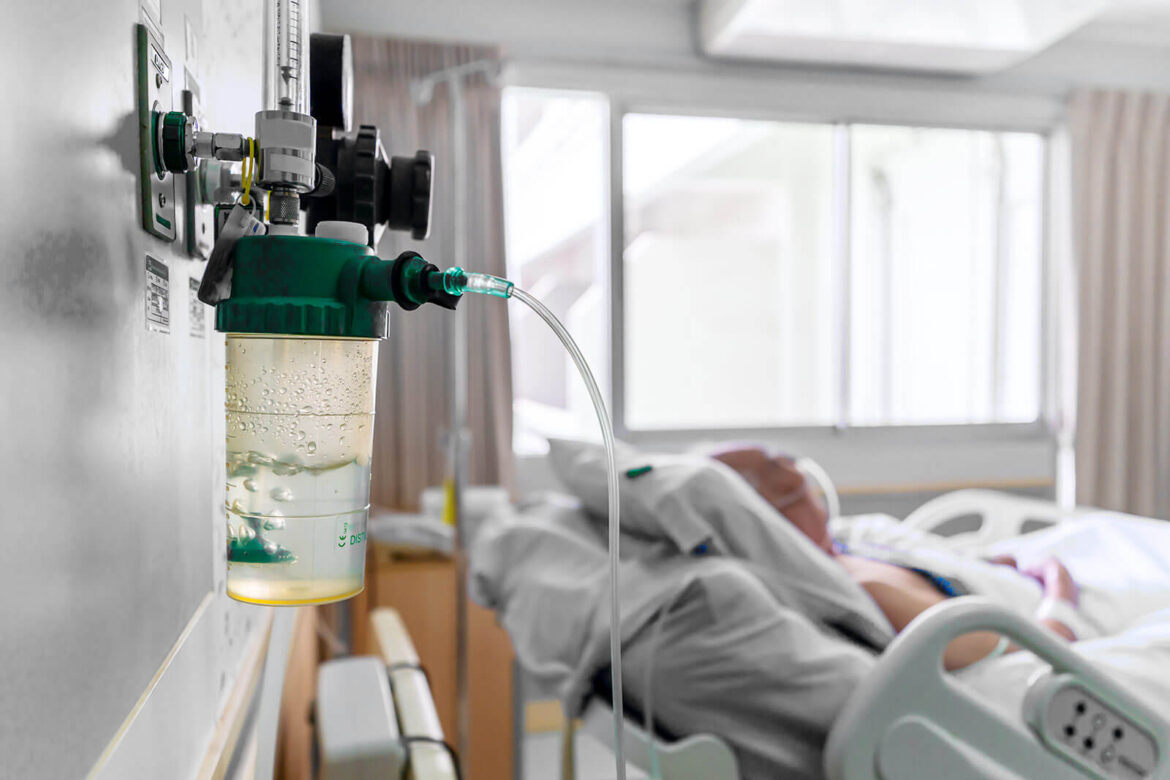 Practical applications of gases in hospitals
Medical gases are part of the landscape of any hospital. They constitute elementary and unavoidable tools and devices for the emergency room, operating theatre, ICU, ward, ambulance, etc…. In other words, their application is multiple and for any space.
Within the variety of medical gases needed in healthcare, we can talk about medical air, oxygen, helium, carbon dioxide, nitrous oxide, nitrogen or nitrogen monoxide.
The fact is that, on a regular basis, more and more requirements are arising for their use. Perhaps the most important application is oxygen/medical air for oxytherapy purposes. The important thing here is to know how much of the gas the patient inhales.
For breathing purposes, gases can be supplied directly from the cylinder or concentrator to the patient, while in hospital facilities the gas is usually piped from tanks, thermoses or cylinders to intakes at each location.
Specialty gases are key to many analytical equipment that study the chemical composition of a blood sample or other biological waste. In addition, in oncology, they can be used to find markers that indicate that a cancerous tumour is growing or under control. Special gases are also very useful for lasers in surgery or other treatments.
For equipment sterilisation, it is possible to make gas mixtures with ethylene oxide or other components that are toxic. In this respect, a very popular application is proton therapy for cancer treatments. On the other hand, nitric oxide is valid as a relaxing agent to dilate blood vessels, especially pulmonary vessels, in the case of prenatal respiratory failure.
And helium is mixable in medicinal applications to reduce the density of the oxygen mixture.
« The range of options for the use of medical gases is vast, and is constantly growing as new treatments and advanced technologies emerge.
And if we had to summarise their main uses and applications, it would be:
Facilitating respiratory function.
Support in diagnosis, anaesthesia, sterilisation, endoscopy techniques, laparoscopy, laser, Nuclear Magnetic Resonance, ophthalmic surgery and conservation of samples and organs.
Calibration of measuring equipment in clinical laboratories.
Risks of gases in hospitals
One of the most important factors to take into account when it comes to medical gases and gases used in medical care is their risks. First and foremost, it is essential that the systems used for medical gases comply with the required safety regulations, and that the occupational risk prevention service of the hospital ensures compliance.
The installations of these gases must be designed and built by experts in the field and must comply with all the required regulations. But that is not all: healthcare personnel must know how to treat them, their characteristics and associated risks, in order to avoid any type of problem in the course of routine healthcare work.
Due to their physical and chemical conditions and characteristics, they therefore entail a series of risks that must always be monitored.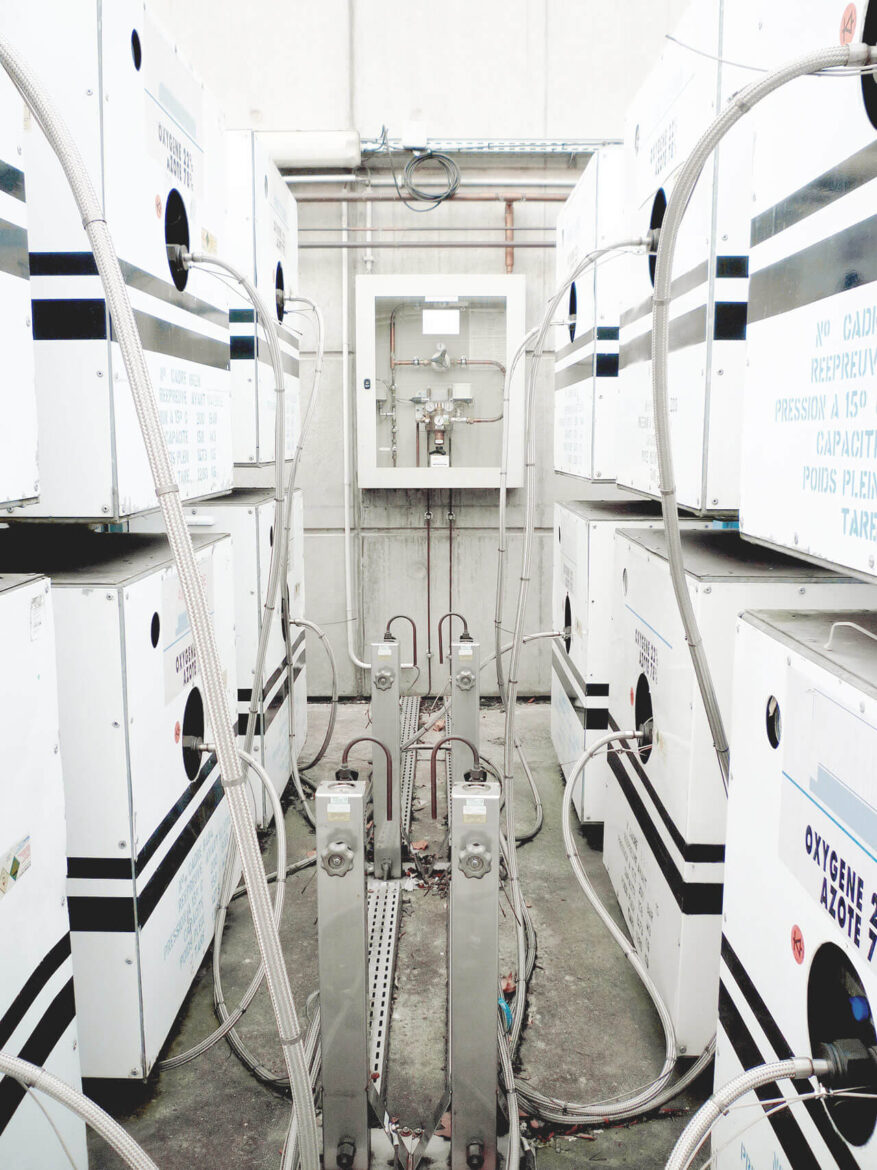 The most commonly used medical gases in hospitals
As we said, although they have been present in healthcare centres for centuries, the use of medical gases continues to gain more and more strength in the medical field. Research has led to the discovery of new applications in their use, thanks mainly to new technologies. However, there are a number of gases that are the most commonly used in hospitals, for different reasons and for different applications. These are listed below.
Nitrogen (medical liquid nitrogen)

Nitrogen is a medical gas used for the cryosurgical removal of some cancers and skin lesions.
It is in liquid form and at very low temperatures, so it is also used to store and freeze tissues, cells and blood at cryogenic temperatures to prevent oxidation of samples. For example, the pharmaceutical industry uses this medicinal gas in the manufacture of medicines. Gaseous nitrogen, the largest component of our atmosphere, is used in medicine mainly to propel surgical tools.
Medicinal Oxygen

This gas makes life possible and is indispensable for combustion, which is why it is one of the most widely used gases in hospitals, mainly as artificial respiration when patients are short of air.
Odorless, colourless and tasteless, it is used for resuscitation and inhalation therapy. It is also used in anaesthesia before any intervention, in the treatment of burns or in hyperbaric therapy to treat numerous diseases.
Carbon dioxide

Used especially for medical gas insufflation in less invasive surgeries, such as laparoscopy, arthroscopy, endoscopy and cryotherapy, as well as for respiratory stimulation during and after anaesthesia.
Nitrous oxide

Nitrous oxide is very useful in many surgical procedures as an anaesthetic and analgesic. It is known as « laughing gas ».
Medicinal air

In medicine, compressed medical air is used in conjunction with high humidity treatments with atomisers, paediatric treatments and in all types of respiratory therapies where increased atmospheric oxygen content is contraindicated. In other words: medical air is mainly used in ICU and NICU areas because it allows for the mobilisation of compressed air driven respirations, or as a diluent for administered O2, since O2 in concentrations of 100% is toxic to the body.
It is also used in anaesthesia equipment as a transport element to atomise water, administered to the airways and as a propellant for surgical equipment.
Helium

Helium belongs to the family of inert gases and is the second lightest element. Odorless, colourless, tasteless, non-toxic and non-flammable, it is normally used in a liquid state for tomography cooling systems, as it reaches a low temperature of -259°C. It is also used in the field of medical devices.
In addition, its application is focused on the diagnosis of diseases through magnetic resonance imaging, since MRI equipment needs liquid helium to maintain a low temperature that allows the superconductivity of the magnets.
Installation, use and concepts to keep in mind
Knowing the most common types of gases, understanding how each is used and for what purpose, and keeping the systems optimised, is a must for hospital and medical staff. But even more important is to understand the particularities of their installation.
First of all, it is important to know that the gas production and storage plant is owned by the gas supplier, which has important implications for responsibilities and maintenance. They have a consumption that maintenance managers cannot speculate on or reduce for the sake of lower costs. In turn, it demands associated services such as cylinder delivery, traceability, increased maintenance, etc.
It is a logically vital and priority service, as a hospital can't function without it. In addition, and this is where the hospital engineer comes into play. Gases require different forms of storage and distribution, whether portable bottles, insulated batteries, cryogenic tanks, self-production for medical use… Therefore, a good hospital design will be crucial to avoid future problems.