At Tedisel Medical we are proud to have one of the leading hospital equipment offerings on the market. Our medical devices are fully compliant with European and international standards for quality management, manufacturing and design, as well as CE marking.
Let us now see exactly what it consists of and what its characteristics are, in addition to knowing the main regulations that apply to medical devices.
What is the CE marking?
The CE health conformity marking, as we said, is a mandatory requirement for the marketing of medical devices in Europe. It is indicated on their labelling and instructions for use by the CE symbol + notified body number.
This CE health marking indicates the product's conformity with the directives that apply to it. Thus, it is illegal in Europe to market and subsequently use products that do not bear this marking.
By means of the CE marking, the manufacturer of medical devices also indicates and validates that his product complies with the general safety and performance requirements (GSPR) of all relevant European medical device regulations.
This is one of the most complex certifications as it must comply with all relevant European Directives.
CE-certificate for medical devices – a guarantee
The directives stipulate minimum requirements for the evaluation and certification of products and the CE marking. In this respect, the directive obliges all manufacturers to provide the following guarantees:
Information guarantee: A technical documentation of the product must be established.
Safety guarantee: Test the equipment in accordance with the applicable regulations and its classification.
Guarantee of compliance with specifications and efficacy: Clinical evaluation and, where appropriate, clinical research to assess the safety and compliance with product specifications.
Quality assurance: The company must implement a quality assurance system according to ISO 13485 (we will discuss this in more detail later) with the corresponding follow-up to guarantee its correct implementation.
Steps to obtain the CE marking
STEP 1
To obtain the European certificate of conformity, we must first classify the medical device in order to comply with the specific requirements that apply to it, especially the type of product and risk.
STEP 2
Subsequently, we will prepare the technical file (Technical File): risk management, clinical trials, process validation, etc.
STEP 3
Finally, it is time to present the medical device to a notified body, which will carry out an audit and decide on its CE marking and its marketing in EU countries.
What are the European regulations for medical devices?
EU Regulation 2017/745 on medical devices (Medical Devices Regulation or MDR) is, since it became compulsory in May 2021, the European regulation that regulates that no medical device can be marketed in European territory without the CE marking.
This law covers all the actors in the healthcare scene: manufacturer, distributor, doctor, operator and patient, since only one of them cannot guarantee the safety and efficacy of the products.
Thus, some of the new features introduced by this recent European regulation are:
Creation of a new database called EUDAMED as a guarantee of transparency and to enable the authorities, industry, health professionals and the general public to access information on the medical devices available on the European market.
Improved traceability of medical devices, through the implementation of a unique identification number (UDI).
Strengthening the process of designation and supervision of Notified Bodies.
Stricter requirements regarding the pre-clinical and clinical data that medical devices must have prior to obtaining the CE marking.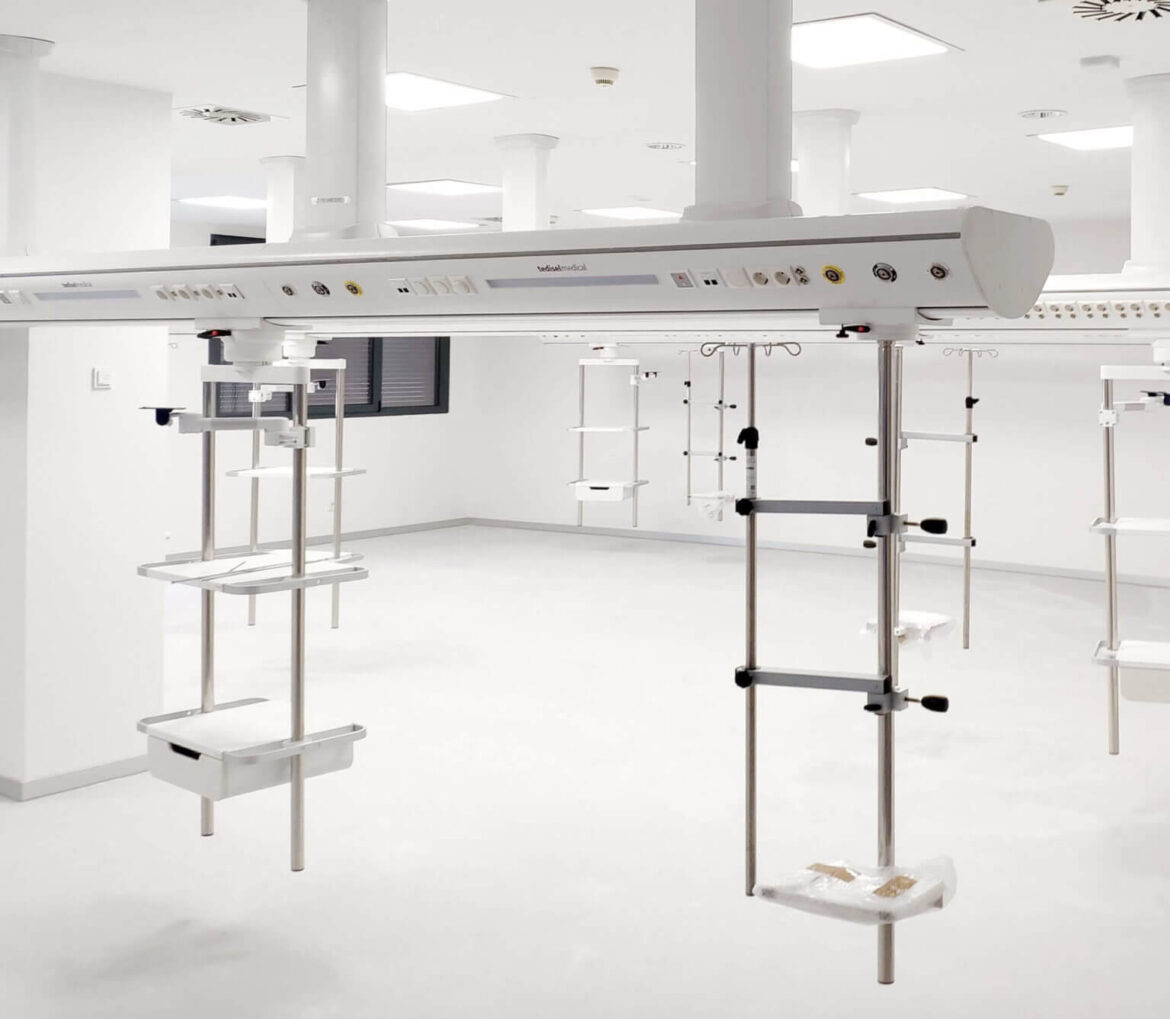 Regulation and monitoring of the CE marking in Spain
In Spain, the Spanish Agency for Medicines and Medical Devices (AEMPS, part of the Ministry of Health and Social Policy) is the body that certifies that these articles for clinical use comply with the Medical Devices Directive.
The main regulations for medical devices
In any industry, standards are the surest way to safeguard product conformity and harmonise requirements both nationally and internationally. The healthcare sector is perhaps the industry where product conformity is most crucial, both in the design and manufacture of medical devices.
The medical device industry is responsible for the design and manufacture of a wide range of products used to diagnose and treat diseases and improve the health of patients.
Products range from imaging equipment, headboards, suspensions, technical panels or software to artificial joints and other implants.
Thus, as medical devices are essential tools for healthcare and as these products have a direct impact on public health and quality of life, their safety is imperative. To achieve the required results and avoid device recalls, companies must follow standards for the manufacture of medical devices.
The ISO system
While there are several management standards applicable to the manufacture of medical devices, the ISO standard is the most relevant globally for the healthcare environment. With them we can know the quality, design, work capacity or technical and technological development of a manufacturer. The most common are:
ISO 13485: This is the quality management system designed specifically for manufacturers of medical products. It is an extension and refinement of the framework established by ISO 9001, which is the general quality management standard, for any industry and sector. Complying with ISO 13485 contributes to overall quality control, traceability, process validation and risk management. It is intended and designed for use in organisations for the design and development, production, installation, service and sales of medical devices.
A certified organisation demonstrates its ability to provide medical devices and related services that consistently meet customer and applicable regulatory requirements. Manufacturers who achieve ISO 13485 compliance will find it easier to introduce their products into international markets. Compliance can also streamline your processes and ultimately help you run a more efficient, profitable and less risky operation.
ISO 14001: This standard is based on sustainability and the implementation of an environmental management system that can help medical device manufacturers reduce waste, conserve energy and reduce their overall carbon footprint.
ISO 45001: This is the standard on specific occupational hazards and occupational safety in the medical device industry.
ISO 27001: This is the standard for data security, i.e. cybersecurity.
IEC 60601 standards
IEC 60601 standards are already widely accepted by health authorities in different countries such as the USA, Russia, Japan, Canada, the EU, Australia and Brazil. Therefore, if we want to market such electrical medical devices, it is important to implement these standards, complying with the described requirements in order to be able to market them successfully.
Thus, all electrical medical equipment must operate in accordance with EN IEC 60601-1 in order to comply with the required safety standards. EN 60101-1 determines the general requirements, tests for basic safety and performance of electro-medical devices.
It is also the first part of a group of standards covering the essential performance, electromagnetic compatibility and safety of medical equipment and systems. In turn, the collateral standard EN 60601-1-2, on basic safety and essential performance of medical equipment and systems in the presence of electromagnetic disturbances emitted by such equipment and systems, is crucial.
It is this standard that addresses potential problems for manufacturers of electromedical devices due to electromagnetic compatibility of electromedical equipment and systems.
A key certification in the industry
Complying with quality and design standards and regulations requires a great deal of work and makes a difference to the success of medical devices. That is why it is important to have the best hospital equipment. A sector in which, in Tedisel Medical, we have more than 25 years of experience, manufacturing hospital equipment for hospitalisation areas, critical areas and surgical blocks.
Our international projection stands out for the variety and adaptability of our products, especially for the manufacture of Headboards, Suspended for ICU, Columns, Panels and Software for Operating Theatres.
By using them in the facilities of health centres, we also manage to facilitate the task of audits to obtain the main health certificates.
In short, at Tedisel we also attach great importance to following good practices and keeping up to date with each of the specific standards and certificates in the health sector in order to offer the best product to our customers.